PROFESSIONAL SERVICE FOR EVERY JOB
Cleaning commercial spaces can be quite different than cleaning homes. There are often special requirements, including health and safety codes, along with the possibility for hazardous conditions. You need a commercial cleaning service that you can trust, that's familiar with all the intricacies of commercial cleaning. Robbins Cleaning Services has years of experience delivering professional results for commercial clients across a broad range of industries. We can develop custom service offerings to suit the needs specific to your business, whatever they may be.
We have extensive experience working with facilities in the following sectors:
• Construction
• Hospitals and Medical
• Corporate/Office
• Fitness
• Education
• Retail
• Religious
We're also always interested in new opportunities, so if your particular business sector isn't on this list, don't worry! Just contact us or request a free quote, and we'll be happy to let you know what we can do for you.
For each different business sector, we have developed a streamlined cleaning process that is both time efficient and cost effective. All of our staff members pass thorough background checks before they ever visit a client. They also complete extensive training, to ensure that their work is up to our high standards and expected results. We can provide complete flexibility based on your requirements and budget, with visit frequency, cleaning tasks, and other details all customizable.
Put your best foot forward with employees, clients, customers, and visitors, by ensuring your business is sparkling clean. Choose Robbins Cleaning Services for quality work by seasoned professionals, that's also easy on your bottom line.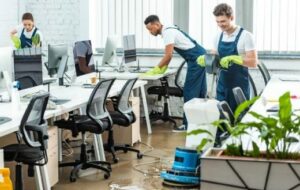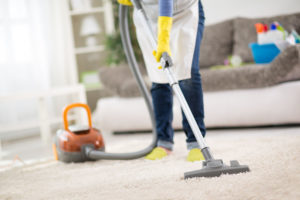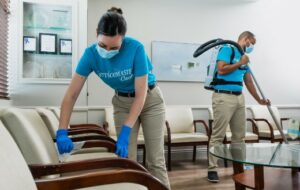 Every customer's needs are different, and we respect that. That's why we offer a free online quote, to provide you with a cost estimate that's based on your specific requirements and ideal cleaning schedule. There's no obligation, and no cost – it just takes a moment of your time to provide some details about the services you need.