CHECK ONE MORE THING OFF YOUR MOVING TO DO LIST
Move In &
Move Out Cleaning
When you're moving into or out of a house, there are a million things you have to schedule, remember, and do. It's a stressful time, as you close one chapter of your life and start another. Between dealing with realtors, looking at houses, all the paperwork, and now packing up and physically arranging the move, it's enough to wear anyone out. The last thing you want to have to deal with is cleaning up your existing home before you leave, or spending hours or days cleaning your new home before you move in. With Robbins Cleaning Services, you don't have to – we'll take care of it all for you, so that your move goes off without a hitch.
Moving out of your existing home, whether you own or rent, requires you to clean the place up, and leave it in pristine shape. Often, especially with rentals, it's the difference between getting back your security deposit or not. If you own your existing home, and are selling it, you naturally want to leave it clean for the new owners.
Moving into a new home also almost always calls for some cleaning. No matter how good a job the previous owner may have done, you want to be sure the place has been thoroughly cleaned. Ideally, this should take place before your actual move-in, so that you can get all those hard-to-reach and out-of-the-way places cleaned, that will soon be blocked by furniture. You want to ensure your new home is clean and fresh, so that you can truly start from a "clean slate" and make it your own.
In both of these cases, we're here to help take care of all your cleaning needs. We've performed countless move out and move in cleanings, and know the kind of high standards that homeowners expect – and what it takes to make sure you get your security deposits back. At this point, we know moving-related cleaning like the backs of our hands. We've developed an industry-standard checklist that all of our cleaning specialists follow, which can then be further adapted to your specific cleaning needs. This includes things like vacuuming, dusting, cleaning sinks, toilets, and showers, and sanitizing surfaces throughout the home.
At Robbins Cleaning Services, we bring our own professional cleaning supplies and equipment to every job. Our cleaning specialists are all highly trained experts, with extensive experience in home cleaning. Check one more thing off of your moving "to do" list, and leave the cleaning to us. We promise you'll be pleased with the sparkling clean results!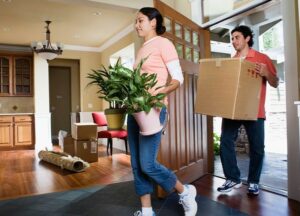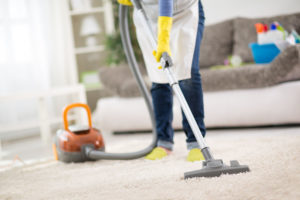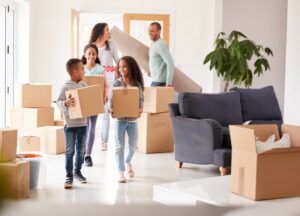 Every customer's needs are different, and we respect that. That's why we offer a free online quote, to provide you with a cost estimate that's based on your specific requirements and ideal cleaning schedule. There's no obligation, and no cost – it just takes a moment of your time to provide some details about the services you need.